Carole Hanson

Age

12 (season 1)
13 (season 2)
14 (season 3)

Horse

Starlight (Rode Cobalt for Veronica)

Club Position

Leader

allies

Stevie, Lisa, Max, Desi, Simon, Phil, Red, Scooter, Jack ect

Friends

Stevie, Lisa, Desi, Simon, Phil, Red, Scooter, Jack, Veronica (sometimes), Kristi (sometimes)

Portrayed by

Keenan MacWilliam (Season 1 -Season 2), Victoria Campbell (Season 3)

First appearance

Last appearance

Gender

Female
Carole Hanson is a bright African American girl with a natural riding ability.
Family history
Edit
Carole Hanson is the daughter of Colonel Hanson. Her mother died of cancer when she was young. Ever since then she has been close to her father.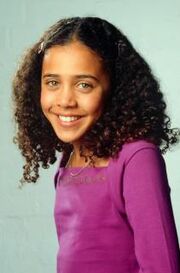 Devastated when her mother died of Cancer, this was preceded by Cobalt's death she almost gave up riding. But her father, U.S. Marine Colonel Mitch Hanson, reminded Carole that her mother would have wanted her to follow her passion.
Season 2 begins with Carole coming back from a trip. It is going to be her b-day and she expects her friends to celebrate it well. She is stunned and hurt when it appears that her friends have forgotten her birthday. But they haven't--and they throw her an amazing surprise party.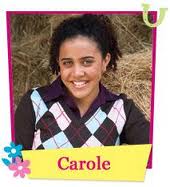 In "Moving On Part 1" Carole's dad got redeployed and she almost left Pine Hollow, The Saddle Club, and Starlight behind forever when it was decided that she'd live with her Aunt Penny. Thanks to Mrs. Reg Carole is the first live in boarder at Pine Hollow as of "Moving On Part 2" which allowed her to stay at Pine Hollow, continue to be in The Saddle Club, and keep Starlight.
Appearance
Edit
She has dark skin and shoulder length curly brown hair in The Saddle Club and in Pine Hollow TV series has longer hair and wears shorts, vest tops and sandals.
Personality
Edit
Carole loves horses and knows everything about them. She is smart and determined, and thrives to be the best she can be.
Extra Info
Edit
Carole knows her future lies with horses, but there are many exciting paths to follow and she doesn't know which road to take.
Her grades are high enough for her to become a veterinarian but she would also love to breed and train Thoroughbreds.
She wouldn't mind being a professional steeplechase jockey, or maybe travelling the world teaching dressage clinics.
Whatever career she chooses, her most immediate goal is to be the very best rider she can be.
She's allergic to Camels and the Saddle Blanket that Colonel Hanson sent her is made out of Camel Hair.
When Carole suggests naming Samson after "Samson and Delilah" it's an indication that Carole is a Christian.
Carole's favorite color is Purple.
She bought her horse, Starlight, with the money her mom left her.